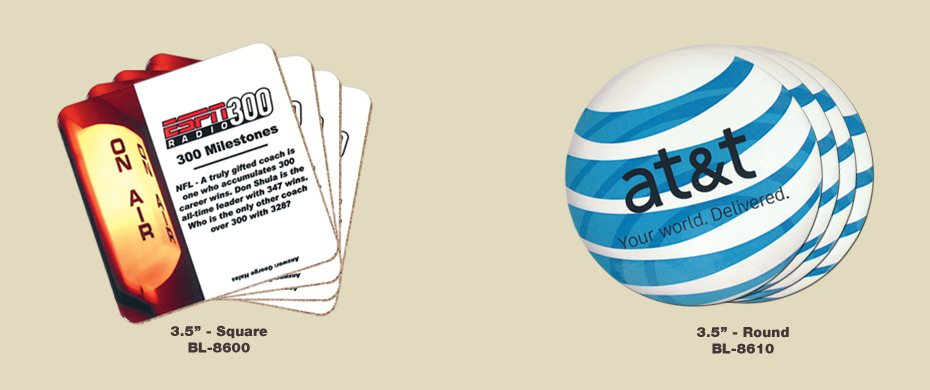 Great looking and Affordable Stock Deluxe Coasters
Construction
Our coasters are printed on 80 point coated board stock. Imprints are then laminated with ultra clear mylar film for maximum protection. A lining of cork is adhered to the underside of the coaster.
Charges & Imprints
Pricing shown includes printing one color. For each additional color add one color running charge and one plate charge of $25.00. No plate charges on exact reorders!
Proofing
Now offering color email proofs at no charge! Pre production product samples are $30.00 per color. Allow 3-5 working days. Upon approval no other setup charges will apply.
Printing Method
Silk-screened. Stock colors shown below.
Packaging
Shrink Wrapped in sets of 4. For individual poly bags add $0.05 each. 33LBS. per M. 900pcs. per box
Production Time
Normal production time is 8-10 working days. Out of time? Rush services are available! See general information for further details.
Measuring Coaster Thickness
Coaster thickness is measured in 'points'. One point equals 0.001". In other words, a one inch tall stack would contain roughly:
13 coasters of 80 point thickness
17 coasters of 60 point thickness
25 coasters of 40 point thickness
However, there is variation in paper thickness from the paper mills. 40 point coasters are the most popular thickness. An 80 point coaster would be roughly about as thick as 7 typical business cards.

BL-8600 :: Square - 3.5"

150
250
500
1000
2500
5000
BL-8600 : Square - 3.5"
1.25
0.83
0.62
0.45
0.40
0.38
Additional Color
0.27
0.12
0.07
0.04
0.03
0.02
BL-8605 :: Square - 4"

150
250
500
1000
2500
5000
BL-8605 : Square - 4"
1.50
1.06
0.86
0.65
0.60
0.59
Additional Color
0.27
0.12
0.07
0.04
0.03
0.02
BL-8610 :: Round - 3.5"

150
250
500
1000
2500
5000
BL-8600 : Square - 3.5"
1.25
0.83
0.62
0.45
0.40
0.38
Additional Color
0.27
0.12
0.07
0.04
0.03
0.02
BL-8612 :: Round - 4"

150
250
500
1000
2500
5000
BL-8605 : Square - 4"
1.50
1.06
0.86
0.65
0.60
0.59
Additional Color
0.27
0.12
0.07
0.04
0.03
0.02